Promotional Calendars
Why Buy From Us?

1. We are one of the U.K.'s leading suppliers of promotional calendars.
2. Over 430 titles to choose from.
3. FREE artwork for your organisation's branding.
4. FREE proofs before we print your advertising calendars.
5. FREE mailing envelopes.
6. FREE carriage on all "Aston" calendars.
7. Bespoke calendar specialists. Use your own images!
Promotional Calendars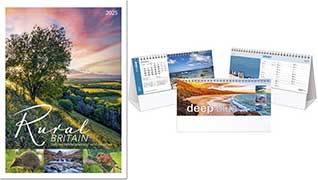 Promocalendars supply promotional calendars from all of the U.K. manufacturers. We are distributors for Reeve, Brunel, Rose and Aston and we believe we offer the lowest prices for advertising calendars within the country. On this website there are over 430 titles to choose from and many of our personalised calendars are now in postage saving friendly format. Promocalendars are also specialists in tri-monthly shipping calendars and we have three styles of shipping calendars to select from. We offer free artwork and our graphic studio will produce a free proof for your approval before we print your branded calendars. Please select from the menu buttons at the top of this page or click on the pictures below to view detailed information and images of all of our custom calendars. You can also download price-lists and there are no hidden extras! All of our promotional calendars are supplied with mailing envelopes.
Why Give Advertising Calendars?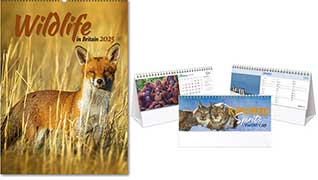 The most important reason for giving advertising calendars as a business gift is that it is an extremely cost effective method of promoting your business. For just a few pence per day your business name will be displayed prominently in front of key decision makers. Your company name and details will be on display 365 days per year. Twelve times a year your customers will turn the page of your personalised calendars and consciously think about your company. Business calendars also have a large advertising area compared to other targeted business gifts. Your advertising calendars will be personalised with who you are, what you do and how to reach you, and remember that retaining customers is more cost effective than attracting new ones, so remind them that they matter! Promotional calendars are also fully tax deductible and they deliver credibility, familiarity and instant recall of your organisation's name. All of our advertising calendars are delivered to you complete with mailing envelopes and we deliver nationwide. You can view our advertising calendars and other quality advertising gifts on our sister website at www.printit4u.co.uk
Please note that you are viewing a specially designed version of our promotional calendar website suitable for smartphone viewers. To see the full version of our website please view on a tablet or a desktop.
Promotional Calendar Categories
Featured Calendars For 2019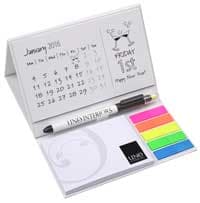 Calendarpod Midi is one of our featured calendar for 2019. It combines a useful calendar, a sticky note pad, index tabs and is supplied exclusively with a Senator Duo Pen. This is a twist ball pen and a highlighter in one! We can personalise the sticky notes, the calendar, the Duo Pen and the hardback cover. This personalised calendar will really wow your customers and they are bound to see your advertised message all year round. The Calendarpod Midi is supplied individually bagged and folds flat for easy posting.

Key Features.
Size 155mm x 430mm. Hardback cover contains one A7 (100 x 75mm) 50 sheet sticky note pad and five 25 sheet plain index tabs. 12 gloss calendar sheets (149 x 99mm ) - 1 month to view. Senator Duo Pen - a twist ball pen and highlighter combined. Indvidually bagged.
Cal 605 Desk Shipping Calendar.Your customers will truly love these mini tri-monthly desk shipping calendars. They are small enough to fit comfortably on top of your customer's desktop and your advert will be prominently displayed. The calendars are supplied with a sliding cursor and date highlighter and will be delivered inserted into mailing envelopes. The international dates and holidays for the U.K.'s top twelve trading partners are shown and we will print your advert in full colour. On the rear is a useful yearly planner and another opportunity to print a message. These calendars are fabulous value at £2.99 for a quantity of 200. Please contact us for prices for other quantites. Promocalendars of course also offer full size wall tri-monthly and quad-monthly shipping calendars
C64 360 Interactive. The very latest technology has been introduced to these amazing interactive calendars available from our Reeve calendar collection. Every page on this new unique calendar links to an online 360 degree panoramic experience of the views on the calendar. Simply scan the QR codes on each page with your smartphone or tablet and then become immersed in a fantastic 360 degreee virtual reality tour. For an example please visit www.360interactivecalendars.co.uk/angelfalls New for 2019 you can now enjoy a full virtual reality experience of this calendar by inserting your mobile phone into the virtual reality headset (available at additional cost and supplied flat packed). You will be fully immersed in the panorama and you will believe that you are truly there. The experience will make you feel like you are flying above the calendar location! The receivers of these interactive calendars will be truly amazed and your advert and brand will be forever linked with this modern technology. Please view the videos below to experience how your customers will be able to enjoy this amazing interactive calendar.
Looking For Other Types of Advertising Gifts?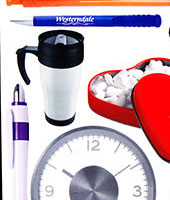 Please visit our sister website at Printit4u to view hundreds of alternative promotional gifts. Many of our customers also like to give advertising diaries and branded notebooks to their customers. Personalised Castelli diaries styled in Italy and branded here in the U.K. make a beautiful business gift. Why not consider low cost promotional pens or in our inclement weather a printed umbrella is always popular. If you would like to see your message and advert on your customer's desks then consider promotional adpads or personalised sticky notes. At Christmas time why not send personalised christmas cards to your most loyal customers? Low cost technical gadgets such as printed usb drives along with promotional mouse mats also make excellent business gifts. Everybody likes to break their day with a cup of tea or coffee and a promotional mug will always be well received. Many of your customers might also be keen golfers so why not consider personalised golf products or personalised golf balls? Everybody has a set of keys and promotional key rings make an excellent low cost advertising gift. Printit4u always have special offers on advertising gifts and so please visit for your next marketing campaign.
Customer Reviews of Promocalendars
I just had to write and express our gratitude for the service you all provided. The Calendars were very professionally printed and the whole process was seamless and without any problem whatsoever. Congratulations to all of you and thank you for your assistance for printing the shipping calenders even much before the deadline. Thank you Thank you.
FROM: MARY AT AIR SEA LAND SHIPPING and MOVING (UK) LTD.
Used Promocalenders for the second year. We have been really pleased with the service and the quality of the products (bespoke calendars) we have received.
FROM: KATHY SKINNER AT RES TRACTORS LTD.
From initial telephone chat David was very helpful. He kept to promised deadlines in producing artwork and ultimately delivery of product (advertising calendars). The service and overall experience was a very positive one and we are very likely to use his services again next year.
FROM: CHRIS PARKER AT GRF LTD.
We only needed a small number of advertising calendars printing but promocalendars understood our requirements and everything was undertaken satisfactorily by e-mail. Delivered before expected delivery date so that was good as we were able to get the majority out before Christmas. This was our first experience of having promotional calendars but if we do the same again next year I'm sure we'll use them again.
FROM: JEAN AT C. G. PIPITEC LTD.